News and Information
---
Davos focus turns to Africa
January 27, 2005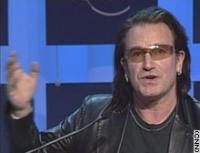 Mbeki: We must work harder to end conflicts
Thursday, January 27, 2005 Posted: 5:55 PM EST (2255 GMT)

Bono said that Africa was not a cause, it was an emergency.
Image:

Lingo's VoIP Phone Service
First month free. Use your broadband Internet connection and save money with...
www.lingo.com

Mortgage Rates Hit Record Lows
Get $150,000 loan for $690 per month. Refinance while rates are low.
www.lowermybills.com

MyCashNow - $100 - $1,000 Overnight
Payday Loan Cash goes in your account overnight. Very low fees. Fast decisions....
www.mycashnow.com

LendingTree.com - Official Site
Lendingtree - Find a mortgage, refinance, home equity or auto loan now. Receive...
www.lendingtree.com


RELATED
• Blair: U.S. must court allies
• Chirac: Despair 'like a Tsunami'
• Security tight for Davos summit
• Celebrities, leaders, jostle at Davos
• World leaders look to tech, not politics
• Gates gives $750m for vaccines
• World Economic Forum (External site)

CNNI's programming from Davos includes an hour-long live special debate on the future of democracy in the Middle East, "CNN Connects: Freedom to Choose." With guests including Amre Moussa and Shimon Peres. 2000 GMT Friday January 28, replaying at 1100 and 1900 GMT Saturday January 29.

DAVOS, Switzerland -- UK Prime Minister Tony Blair, former U.S. President Bill Clinton and rock star Bono joined forces Thursday in Davos an attempt to focus the world spotlight on the plight of Africa.

The three men were sharing a platform at the World Economic Forum in the Swiss ski resort where 2,250 political and business leaders have gathered to address key issues facing the world economy.

Joining them was Microsoft founder Bill Gates, South African leader Thabo Mbeki and President Olusegun Obesanjo of Nigeria.

In a lively discussion, Clinton appeared to criticize his successor President George W. Bush, saying a fraction of the $80 billion a year spent on the war in Iraq would go a long way to alleviating Africa's problems.

Before joining the debate Bono had told journalists: "Our generation wants to be remembered for something other than the war against terror."

The Irish rock star said people kept stopping him and congratulating him for taking up Africa as a cause.

"It is not a cause, it is an emergency," he said.

Mbeki said the region's leaders needed to work harder to end the military conflicts scarring the continent.

"We have to address peace and stability on the continent very vigorously, very successfully, to make sure we end all of those conflicts -- because without that we don't have development.

"Unless we have peace and security we don't have the ability to do anything else," said Obasanjo.

Blair, who has made Africa a focus of his leadership of the G8 this year, said the continent's plight was "a scar on the conscience of the world" and questioned whether the global community would allow such poverty to persist anywhere else in the world.

"I almost think if what was happening in Africa today as we speak was happening in any other part of the world there would be such a scandal and clamor that governments would be falling over themselves to act," Blair said.

Gates, who has amassed an estimated fortune of $48 billion as founder of Microsoft, said most of the disease and despair on the continent would be easily preventable if resources were applied.

"Millions of children die in Africa who shouldn't die, who it would be very easy to save," he said. "The fact that we don't apply the resources to the known cures or to finding better cures is really ... the most scandalous issue of our time."

Gates recently put more of his money where his mouth is, pledging $750 million to support immunization programs in developing countries.

Bono praised Gates, saying: "He is a brainy man and he thinks extreme poverty is stupid."

Blair also brought a financial boost, announcing Britain would contribute £45 million pounds ($85m) toward the $550 million he said the World Health Organization had estimated was needed to buy bed nets to prevent malaria in Africa.

He asked other G8 countries to pay the rest needed to combat a disease that kills between 1 and 3 million people a year, most of them African children under five.


Tight security: Swiss policemen on patrol on the streets of Davos.
Britain has proposed doubling annual aid to poor countries to $100 billion, dismantling trade barriers, an infrastructure fund and writing off multilateral debt to the world's 70 poorest countries at a cost over $2 billion over 10 years.

"Debt cancellation must be effected," said Mbeki. "It's really obscene that poor countries become net exporters of capital due to debt."

Bono said agreement on cancelling debt was the minimum that should be achieved this year.

Earlier rounds of debt reduction allowed Uganda to treble the number of primary school places it could afford, he said.

U.S. defended
CNN Senior International Correspondent Walter Rodgers said the moderator of the debate, French TV presenter Christine Ockrent, criticized the United States for not doing enough to help the people of Africa.

But after she tried to put ex-president Clinton on the spot, he told her there was very little constituency for foreign aid to Africa in the U.S. -- especially as the U.S. was spending $80 billion a year on the Iraq war.

U.S. Senate Majority Leader Bill Frist defended the U.S., Rodgers said, saying that 25 percent of all disaster emergency relief in the world was donated by the U.S. -- as in the tsunami effort in South East Asia.

Frist also pointed out that 60 percent of all the emergency food donations in the world is donated by the United States.

Security was tight around the mountain town. Preparing for any terrorist threat, organizers told The Associated Press that air force planes were ready to shoot down any unauthorized aircraft that stray too close to the 2,250 participants.

The forum has been a favorite of top U.S. administration officials in recent years, including Vice President Dick Cheney and Clinton during his presidency. But this year's event is being dominated by European leaders as key U.S. officials stay away because of personnel changes in the Bush administration, organizers said.

Source: www.cnn.com
http://www.cnn.com/2005/WORLD/europe/01/27/davos.main/index.html
Support Caprivi Freedom
Fill out the form below to become a member of this site and receive our regular newsletter.