News and Information
---
Sharon praises Palestinian leader
January 27, 2005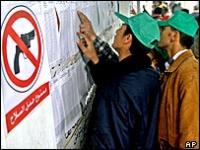 Palestinians say the polls answer foreign calls for democratisation
Israeli Prime Minister Ariel Sharon has said he is "very pleased" with measures Palestinian leader Mahmoud Abbas has taken to lessen the threat of violence.
Mr Abbas has urged Israel to respond fast to a temporary and informal ceasefire he brokered with militants.

He also banned Palestinian civilians from carrying weapons - seen as a step towards meeting disarmament demands.

Palestinians in parts of Gaza have meanwhile been voting in historic local polls for mayors and council members.

Candidates fielded by the Hamas militant group are expected to pose a strong challenge to the ruling Fatah party.

BBC Gaza correspondent Alan Johnston says Hamas is showing how the bomb and the ballot box can both play a part in its strategy.

He said Palestinian enthusiasm for the polls stems partly from the belief that they are strengthening the case for a state of their own and for an end to the Israeli occupation.

Fragile situation

Mr Sharon praised recent Palestinian measures to end the threat of militant attacks - a prerequisite, Israel says, for any peace process.

"There is no doubt that Abu Mazen [Mahmoud Abbas] has begun to work," Mr Sharon told Israeli newspaper Yediot Ahronot.

HAMAS

Formed in 1989
Spearheads suicide attacks against Israelis
Aims to establish an Islamic state in all of historic Palestine
Leaders targeted for assassination by Israel


Hamas tries ballot box power
Who are Hamas?

"I intend to advance the chance of a settlement with the Palestinians," he said, adding that he would be "accommodating" to Mr Abbas, while remaining "vigilant".

Speaking after talks with US State Department official William Burns, Mr Abbas meanwhile warned the situation "cannot last for long" if Israel does not offer a swift halt to military operations - a key condition for a full ceasefire from the militants.

Mr Abbas has also issued a ban on civilians carrying weapons in public - seen largely as a symbolic step towards strengthening the power of Palestinian security forces and curbing the clout of Palestinian militants.

Israel's foreign minister Silvan Shalom has however warned that the truce negotiated between Mr Abbas and militants was a "ticking bomb which will blow up in our faces".

In other developments:


Israeli troops reportedly shoot dead a mentally-disturbed Palestinian man who approached their outpost near Gaza City.

Palestinian police deny an Israeli report they have begun a planned deployment in southern Gaza, blaming the delay on technical hitches.

Israel agrees to release some 500 Palestinian prisoners, according to a Palestinian official.

Militants claiming to be from the al-Aqsa Martyrs' Brigade say they will end their truce within a day if Israel fails to end military operations, after an Israeli raid left one Palestinian dead.

On Wednesday, a three-year-old Palestinian girl was killed when Israeli troops opened fire in retaliation for a rocket attack on southern Israel.














Source: www.bbc.com
http://news.bbc.co.uk/2/hi/middle_east/4211099.stm
Support Caprivi Freedom
Fill out the form below to become a member of this site and receive our regular newsletter.