News and Information
---
Blair asks for 'global consensus'
January 26, 2005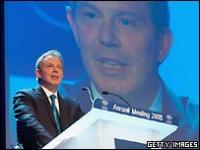 Tony Blair speaking at Davos
Mr Blair was the big draw for Davos participants on Wednesday
There is an "emerging consensus" on key issues such as climate change and poverty, UK Prime Minister Tony Blair has told the World Economic Forum.

His comments came in the keynote speech on the first day of the Davos meeting of business and political leaders.

Mr Blair used his speech to stress the themes he wants to highlight during the UK's chairmanship of the G7 group of industrialised countries this year.

Also on Davos' agenda were Aids and dangers facing the world economy.


This is an utterly insane way to run the world economy... You know that, we know that, but the Federal Reserve is in denial about that
Stephen Roach, Morgan Stanley

Experts warn on world economy

Mr Blair told a packed conference hall that efforts to deal with global warming would fail if they demanded that governments take actions that seriously threatened their economic growth.

And he noted that the evidence for global warming was "disputed", an acknowledgement of the US refusal to sign up to the Kyoto climate change deal.

He praised US President George W Bush's recent inauguration speech for showing a "consistent evolution in US policy" by stressing freedom.

"Freedom is good in itself, but it is also the best guarantee that human beings will live in sympathy with each other," he said.

Shortfall

Earlier on the first day, the conference had focused on Aids, with an update on efforts to get drugs to Aids sufferers warning of a $2bn shortfall in funding.

The World Health Organisation (WHO) is aiming to have three million people on anti-Aids drugs by the end of 2005.

More than 700,000 people in poor countries were now on life-extending drugs, the WHO said, up from 440,000 six months earlier.

The Davos conference centre
Security is tight, and temperatures well below freezing

French President Jacques Chirac used a speech given over a video link to call for an international tax to fund the fight against Aids.

"It would allow us to mobilise $10bn a year," he said.

His proposal mooted either a levy on fuel for air and sea transport, a $1 tax on air tickets, or a tax on international financial transactions.

By the numbers

On the conference floor, the forum is usually dominated by business issues - from outsourcing to corporate leadership - with bosses of more than a fifth of the world's 500 largest companies scheduled to attend.

Economics remains the focus, and several economists took the opportunity to warn that imbalances threatened global stability.

The deficit both in the public purse and the overall economy in the US was a particular danger, said Jacob Frenkel, former Israeli central banker and current vice-chairman of insurer American International Group (AIG).

Call for action

But the political side of Davos continues to grab the headlines.

Other issues to be discussed at the five-day conference range from China's economic power to Iraq's future after this Sunday's elections.

More than 20 other world leaders are expected to attend.

The Davos conference centre ©World Economic Forum
The Forum halls are thronged with networkers

They include Ukraine's new president, Viktor Yushchenko, as well as newly-elected Palestinian leader Mahmoud Abbas and South African President Thabo Mbeki.

Showbiz figures will also put in an appearance, from U2 frontman Bono - a well-known campaigner on trade and development issues - to Angelina Jolie, a goodwill campaigner for the UN on refugees.

At the same time, about 100,000 people are expected to converge on the Brazilian resort of Porto Alegre for the World Social Forum - the so-called "anti-Davos" for campaigners against globalisation, for fair trade, and many other causes.
Source: www.bbc.com
http://news.bbc.co.uk/2/hi/business/4208665.stm
Support Caprivi Freedom
Fill out the form below to become a member of this site and receive our regular newsletter.