News and Information
---
Rice confirmed in US Senate vote
January 26, 2005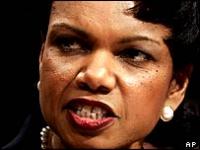 Condoleezza Rice at Tuesday's Senate hearing
Rice is a close confidante of President Bush
Condoleezza Rice has been confirmed as President George W Bush's new secretary of state in a Senate vote on Wednesday.

The US upper house earlier debated her appointment, with some Democratic senators sharply critical of her record in the run-up to the Iraq war.

Eight-five senators eventually backed her accession while 13 opposed it - the second-highest vote ever against a nominee for secretary of state.

Mr Bush said she would make "a wonderful secretary of state".

Ms Rice, who held the position of national security adviser in Mr Bush's first term, wins a place in the history books as the first black female secretary of state.

She replaces former US general Colin Powell, who himself made history as the highest-ranking African American in any US administration when he was made the country's top diplomat in 2000.

'Ability and experience'

Ms Rice is expected to be sworn in at the White House later on Wednesday night and will move into her new office on Thursday morning.

A more elaborate swearing-in ceremony is planned for her on Friday.

She was overwhelmingly approved last week by the Senate Foreign Relations Committee.

"Outlaw regimes must be confronted. Dangerous weapons proliferation must be stopped. Terrorist organisations must be destroyed. Dr Rice has both the ability and the experience to meet these daunting challenges," said Senate Majority Leader Bill Frist during the debate on Tuesday.


George W Bush (left) and Condoleezza Rice

Profile: Condoleezza Rice

Massachusetts Senator Ted Kennedy, a Democrat, admitted Ms Rice "has impressive credentials".

"Her life story is very moving and she has extensive experience in foreign policy," he said.

"But this nomination is different because of the war in Iraq. Dr Rice was a key member of the national security team that developed and justified the rationale for war that has been a catastrophic failure - a continuing quagmire," he went on.

The BBC's Washington correspondent, Justin Webb, says her confirmation was always assured but the manner of it - preceded by a bad-tempered debate and charges of lying - casts a slight pall over her accessation.

Ms Rice, 50, is a close confidante of President Bush and was closely involved in his Iraq policy.

Colin Powell announced his resignation as secretary of state soon after Mr Bush's re-election in November.
Source: www.bbc.com
http://news.bbc.co.uk/2/hi/americas/4209517.stm
Support Caprivi Freedom
Fill out the form below to become a member of this site and receive our regular newsletter.