News and Information
---
Iraq air crash kills 31 marines
January 26, 2005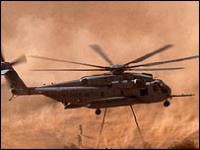 CH-53 transport helicopter (archive picture)
Thirty-one marines have been killed in a helicopter crash in western Iraq, in the deadliest incident for US troops since they invaded Iraq in March 2003.

The CH-53 helicopter, carrying troops from 1st Marine Division, came down in bad weather near the Jordanian border.

Gen John Abizaid, commander of US troops in Iraq, said there was no indication of hostile action.

It comes four days before Iraq's election - a poll that US President George Bush called a "grand moment".

"I urge all people to vote. I urge people to defy these terrorists," Mr Bush told reporters in Washington.

He expressed sorrow at the helicopter crash but said the details of what happened were still being investigated by defence officials.

"Anytime we lose lives, it is a sad moment," he said.

In separate incidents, four US marines were killed in combat in restive Anbar province - the same province where the helicopter crashed - and a US soldier was killed when an army patrol came under attack in northern Iraq.


US HELICOPTER LOSSES IN IRAQ
15 Nov 03: Two Black Hawks collide while trying to avoid ground fire in Mosul, killing 17
2 Nov 03: Chinook shot down near Falluja, killing 16
8 Jan 04: Black Hawk shot down near Falluja, killing nine
9 Nov 03: Black Hawk comes down near Tikrit, killing six
The helicopter, a CH-53E Super Stallion, was flying over the desert when it went down at about 0120 local time (2220 GMT Tuesday), near the town of Rutbah.

Gen Abizaid said the marines were on "a routine mission in support of the elections".

There have been a series attacks across the country as tensions increase ahead of Sunday's vote:

* At least 15 people are killed in car bomb explosion outside Kurdistan Democratic Party offices just outside the northern city of Mosul

* At least five people are killed by three car bombs in the town of Riyadh, near the northern city of Kirkuk

* Insurgents attack party political offices in Baquba, north of Baghdad - at least one police officer is killed

* A video recording released by insurgents in Mosul appears to show three captive Iraqis, who say they are election workers

* One person is killed and two wounded in car bomb explosion outside passport offices in Tikrit, police tell AFP news agency


CH-53E SUPER STALLION
CH-53 Super Stallion helicopter (archive picture)
Largest US military helicopter, introduced in 1981
Can be used in all weathers
Cost: $26m
US Marines have a fleet of 160
Operated by a crew of three
Normally carries 37 troops - can be configured to carry 55
This week, a senior US general said the army expected to keep about 120,000 troops in Iraq for at least two more years.

Troop numbers were recently boosted to 150,000, to improve security during the Iraqi election.

This latest crash is the worst single loss of life for the US military since the war began.

Until this latest incident, the worst helicopter crash was on 15 November 2003, when two Black Hawks collided under fire over Mosul, killing 17 service personnel.
Source: www.bbc.com
http://news.bbc.co.uk/2/hi/middle_east/4209269.stm
Support Caprivi Freedom
Fill out the form below to become a member of this site and receive our regular newsletter.