News and Information
---
Hamas considers conditional truce
January 25, 2005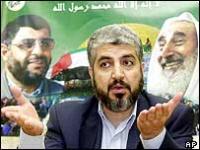 Meshaal wants Israeli concessions before agreeing to a ceasefire
Hamas has said it is prepared to accept a temporary truce with Israel if the Israelis stop targeted killings and release all Palestinian prisoners.
In an interview for the Associated Press, leader Khaled Meshaal warned Hamas would respond to new attacks.

A senior Palestinian official said on Monday that militant groups had agreed to suspend attacks on Israel and were awaiting Israel's response.

This followed a week of talks involving Palestinian leader Mahmoud Abbas.

The militant groups say they will not announce a ceasefire unless Israel makes concessions on halting military operations.

Israel has said its armed forces will hold fire if calm prevails.

Anti-Israeli violence has dropped sharply since talks began between the Palestinian leader and militant groups.

An Egyptian-brokered ceasefire between Israel and Palestinian militant groups in 2003 lasted about two months. Each side blamed the other for its collapse.

Test time

"This is a moment of test," Khaled Meshaal said in a mobile phone interview from an undisclosed location.


Abbas wants a unified Palestinian stance in talks with Israel

"It puts the responsibility on the international community and the United States to force Israel to recognise the Palestinian rights."

Khaled Meshaal is considered the overall leader of Hamas after Israel's assassination last year of the founder of the group, Sheik Ahmed Yassin. He lives in exile for fear of assassination.

He also told the pan-Arab daily al-Hayat that truce talks with Mr Abbas had achieved "positive results".

Earlier Palestinian Prime Minister Ahmed Qurei accused the Israeli government of operating in bad faith after it renewed construction of a controversial barrier near the West Bank settlement of Ariel.

Mr Qurei said Israel was sending an ugly message by working on the project as Palestinians were making great efforts to bring about a ceasefire.

Palestinian and international criticism and court rulings have forced Israel to revise the barrier's route, but it insists the project must be completed to protect its cities from suicide bombers.

About one-third has been built so far, mostly in the northern West Bank. Israel occupied the West Bank and Gaza Strip - home to about four million Palestinians - during the 1967 Six Day War.


Source: www.bbc.com
http://news.bbc.co.uk/2/hi/middle_east/4207137.stm
Support Caprivi Freedom
Fill out the form below to become a member of this site and receive our regular newsletter.