News and Information
---
Martin Luther King Jr (1929 - 1968)- Historic Figure
January 16, 2005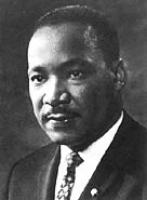 Martin Luther King Jr (1929 - 1968)


Martin Luther King was born in Atlanta, Georgia. His father was pastor of a Baptist church, his mother a schoolteacher. Originally named Michael, he was renamed Martin when he was about six years old.

He entered Morehouse College in 1944, and here he met Dr Benjamin Mays, a scholar who encouraged him to enter the ministry. After graduating in 1948, King went to Crozer Religious Seminary to undertake post-graduate study. He received his doctorate in 1955.

Returning to the South to become pastor of the Dexter Avenue Baptist Church in Montgomery, Alabama, King first achieved national renown when he helped mobilise the black boycott of the Montgomery bus system in 1955. The boycott was organised after Rosa Parks, a black woman, refused to give up her seat on the bus to a white man, as local custom dictated - in the segregated South, black people were only permitted to sit at the back of the bus. The 382-day boycott led the bus company to change its regulations, and the Supreme Court declared such segregation unconstitutional.

In 1957 King was active in the organisation of the Southern Leadership Christian Conference (SCLC), formed to co-ordinate civil rights protests against discrimination, and he was elected president. He advocated non-violent direct action modelled on the methods of Mahatma Gandhi, who led the protests against British rule in India that culminated in India's independence in 1947.

In 1963, King led mass protests against discriminatory practices in Birmingham, Alabama, a city with a dubious reputation because of the violent resistance of its white population to desegregation. The city was dubbed 'Bombingham' as attacks against civil rights protesters increased, and King was arrested and jailed for his part in the protests. Upon his release, he participated in the enormous civil rights march on Washington of August 1963.

It was here, at this huge demonstration, that King delivered his famous 'I have a dream' speech, where he foresaw a day that the promise of freedom and equality for all would become a reality in America. In 1964 he was awarded the Nobel Peace Prize. In 1965, he led a campaign to register blacks to vote, which culminated in a march from Selma, Alabama, to Montgomery, Alabama, the state capital. In 1965 the US Congress passed the Voting Rights Act that outlawed the discriminatory practices that had barred blacks from voting in the South.

As the black movement for civil rights became increasingly radicalised, King found that the message of peaceful protest was not shared by the younger generation, particularly in northern and West Coast cities. King began to protest against American involvement in the Vietnam war and the depth of poverty in the US, as well as black civil rights. However, his crusade on behalf of the poor had only just begun when he was assassinated on 4 April 1968, in Memphis, Tennessee.

In 1969 his wife, Coretta Scott King, opened the Martin Luther King Jr Center for non-violent Social Change. Despite being investigated and bugged by the Federal Bureau of Investigation (FBI) during his career as a civil rights leader, King is now acknowledged as an American hero, and in 1983 Congress made his birthday, 15 January, a national holiday in his honour.


Source: BBCNEWS
http://www.bbc.co.uk/history/historic_figures/king_martin_luther.shtml
Support Caprivi Freedom
Fill out the form below to become a member of this site and receive our regular newsletter.